Locksmith Chelmsford Essex – A Local Family Friendly Business
Welcome to The Lock Father: Your Trusted Locksmith in Chelmsford.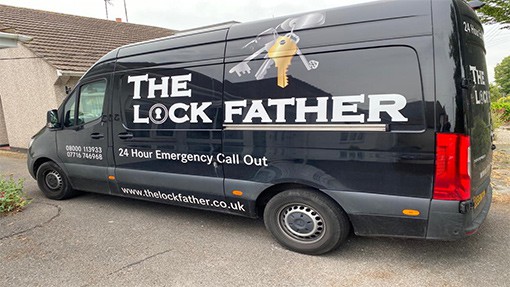 At The Lock Father, we understand that the security of your property and your family's safety are paramount. Our team of professional locksmiths in Chelmsford is dedicated to providing reliable and trustworthy services to our customers.
With extensive experience handling various lock-related situations, we specialise in emergency and non-emergency scenarios.
Whether you're facing a lockout or need expert advice on upgrading your home security, our master locksmiths are here to assist without any call out charge. It's important to note that while we excel in residential and commercial locksmithing, The Lock Father does not provide automotive locksmith services.
We're committed to ensuring that every job we do is completed with the utmost professionalism and efficiency, offering you peace of mind and swift resolution to your locksmith's needs.
Our Comprehensive Range of Locksmith Services in Chelmsford
Our local locksmith services cover every aspect of your security needs. From residential and commercial lock repairs to advanced security system installations, we have the expertise and equipment to handle it all. Our services include lock repairs, key cutting, emergency lockouts, and much more. We are proud to serve Chelmsford and the surrounding areas, ensuring that your property is secure and your peace of mind is intact.
If you are locked out of your house/flat, we will get you in
Lock repairs
High-security padlocks
Boarding up emergency service
Garage door locks – Deadbolts
Burglary damage repair
Lock opening
Master Key Installation
Upvc door gearbox change
High-security locks for patio doors
uPVC window handle locks
Gate lock installation (deadbolt)
Lockable window upgrade or replacement
Letterbox restrictors
Fire Exit Push bars
Roller Shutter Repair – New transponder & fob
Fire Exit Security
Rekeying vintage locks
lock upgrade to high-security locks
Emergency door locks replaced at any time of the day
Mechanical access control
All Yale locks and Euro cylinders
Window locks
Free home security advice or survey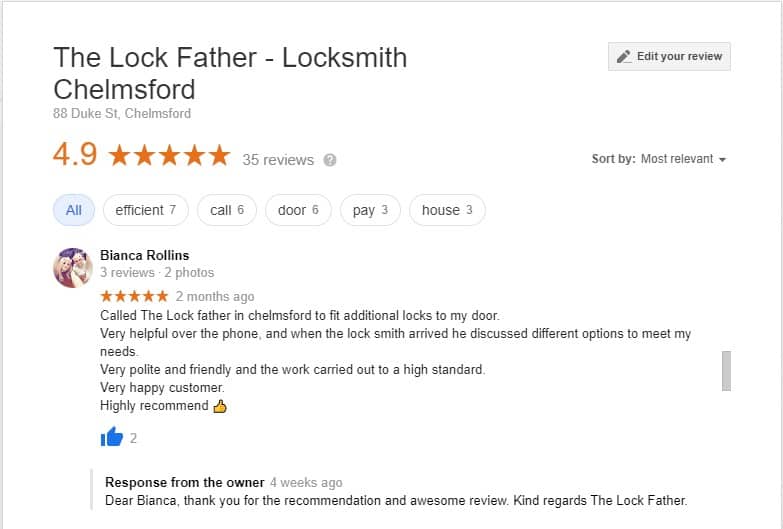 Rapid Response: 24/7 Emergency Locksmith Solutions
The stress and urgency can be overwhelming when you find yourself in a lockout situation. That's where our emergency locksmith services in Chelmsford, Essex, step in to provide relief. Our team is on standby 24/7, ensuring a rapid response to your emergency with a guaranteed response time of less than 15 minutes. What sets us apart is our commitment to no call out fees, ensuring you receive quality service at a fair price. A simple phone call is all it takes to have one of our knowledgeable locksmiths on their way to you.
They come equipped not just with tools but with the expertise to tackle any lock-related emergency. Our team handles each situation efficiently and empathetically, whether it's a lost key, a broken lock, or a security upgrade following a break-in. We want to assure you that we can provide quick, reliable, and cost-effective emergency locksmith services in Chelmsford, ensuring your peace of mind is restored as quickly as your access.
Home Security Mastery: Residential Locksmith Services
Your home should be your safe haven. Our residential locksmith services in Chelmsford include lock installation, repair, and rekeying, ensuring your home's locks are up to the highest standards. With over 6,500 high-security locks installed in the area, our expertise speaks for itself. We also offer key cutting services, perfect for when you need an extra set of house keys.
Business Security Specialists: Commercial Locksmith Services
Securing your business is crucial. We provide a range of commercial locksmith services, including advanced security systems and access control solutions. More than 90% of businesses in Chelmsford rely on us for their security needs. Our team is skilled in handling all types of commercial locks and security systems, ensuring your business is protected against unauthorized access.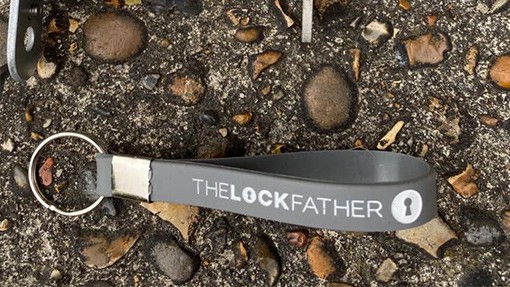 Burglary Repair Services: Expert Boarding-Up and Security Restoration
In the unfortunate event of a burglary, our team is here to restore your security and peace of mind. We specialize in burglary repair services, including expert boarding-up and lock replacement. Our quick and efficient service has saved residents of Chelmsford an estimated £250,000 by resolving lock-related issues effectively.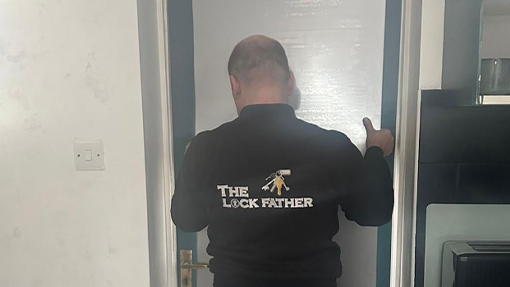 Areas The Lock Father Covers
As a locksmith business with six locksmiths, we can provide a service to the following areas:
Bicknacre
Boreham
Broomfield
Danbury
Dunmow
Great Baddow
Hatfield Peverel
Little Baddow
South Woodham Ferrers
Witham
Writtle
Anywhere in Essex
Convenient Mobile Key Cutting and Duplication in Chelmsford
Need an extra set of keys? Our mobile key cutting service is here for your convenience. Whether it's for your home, office, or vehicle, we can provide high-quality key duplication on-site. Our locksmiths have the latest tools and technology to handle all your key cutting needs.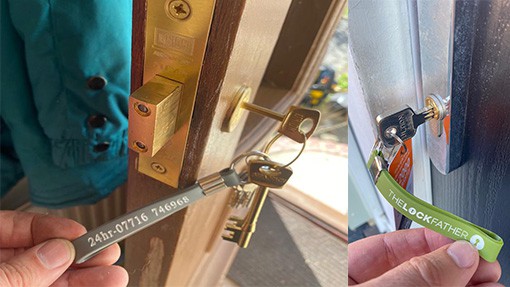 Advanced Security Systems and Access Control Solutions
Upgrade your property's security with our advanced systems. We offer a range of security solutions, from CCTV installations to sophisticated access control systems. Our team can guide you through the best options for your property, ensuring you have the most effective security measures in place.
Choosing the Right Locksmith in Chelmsford: What You Need to Know
Selecting a professional and reliable locksmith is crucial. At The Lock Father, we pride ourselves on our reputation for excellent customer service and workmanship. Our locksmiths are DBS checked, highly trained, and committed to providing the best solutions for your needs.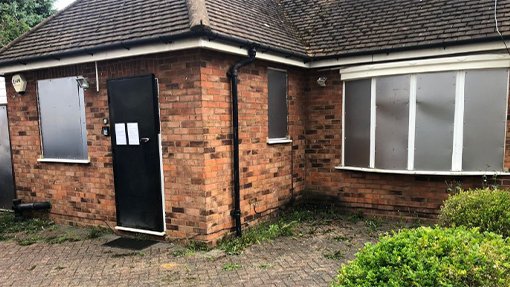 Get in Touch With The Lock Father
Whether you're looking to enhance the security of your property or need emergency assistance, The Lock Father is here to help. As a family-run business, not a call centre, we pride ourselves on providing personalised and direct service to each of our customers in Chelmsford.
When you contact us, you'll be greeted by our friendly team, ready to offer expert advice, answer your questions, and provide a transparent quote with no hidden call out fees.
We understand the importance of clear and straightforward transactions and provide detailed receipts for all our services. For your convenience, we accept various payment methods, including cash, credit card, and debit card, ensuring a smooth and hassle-free experience.
Our commitment to exceptional customer service and high-quality locksmith work is unwavering.
So, call us or visit our website if you need a quick lock repair, a comprehensive security upgrade, or immediate emergency assistance.
Discover the difference between working with a trusted, family-run locksmith business in Chelmsford, where your security needs are met with the utmost professionalism and care.
Frequently Asked Questions
Are all Locksmith Qualified?
Technically, no. Unlike plumbers and electricians, no government body sets the standards for the locksmith trade. Companies with college accreditation run a course such as The Master Locksmith Association, but there is only so much you can learn on a course in one week.

Locksmithing is a trade where you constantly learn, as new locks always come onto the market.
How much does a locksmith cost?
It depends on what work needs to be carried out and when. So, a high-security lock can cost between £60-£70. That cost will always be the same. However, the labour charge is variable. The labour charge at 3 pm is a lot cheaper than the labour charge at 3 am.
Will the locksmith break my door to get in?
No. A good locksmith will always use several non-destructive methods to gain entry into your property. A locksmith will only have to drill the lock on rare occasions, but there should never be any damage to the door.
How do you train to be a locksmith?
The best way to train to be a locksmith is to be an apprentice to one who has been in the trade for over ten years and has an extensive portfolio of jobs.
Are you a local independent locksmith business?
Absolutely, we are not a call centre and our locksmiths live in and around the Chelmsford area.
How long will it take you to get to my property in Chelmsford?
On average it will take us 20-30m minutes. We will always give you an honest Estimated Time of Arrival.