Locksmith Chelmsford
Are you looking for a Locksmith Chelmsford? Whether it is an emergency or not, for commercial or residential property, then please call The Lock Father on 07716746968 or 01245 701139
The locksmith you choose must be local and independent. If he or she is local, then they will have a quick response time. Fast reaction time is critical in an emergency locksmith situation, especially if there is an injured person on the wrong side of the door.
Rapid Entry Specialist
Every member of our team is a Rapid Entry Specialist. A skill we have perfected over the years supporting High Court Enforcement officers. So, if there is an injured or unresponsive person inside a property, then we will get in you fast.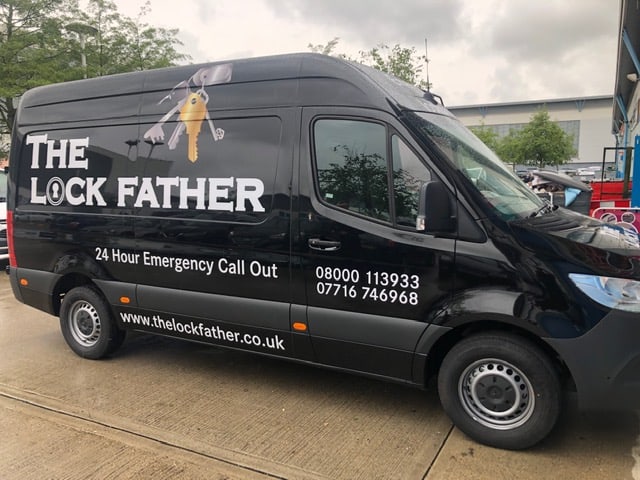 No Call Out Charge
There is no Call Out Charge for our services, even at 2 am. The price we quote is the price you'll pay. Please be aware of the £49 locksmith, as there are hidden costs.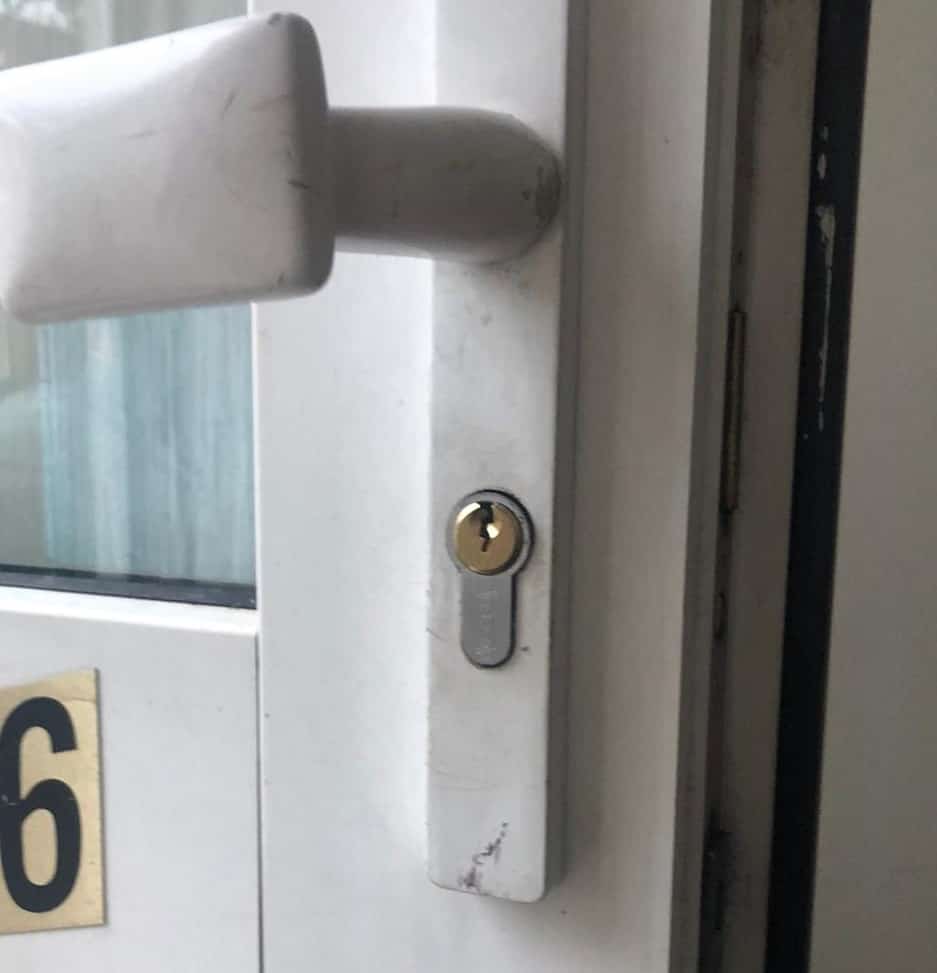 We can defeat any lock
There isn't a lock on the commercial or domestic market that we cannot overcome. We will always use several non-destructive methods, first and foremost. Such as lock picking, bypassing, or other ways which we cannot discuss for security reasons.
Local Chelmsford Locksmith Business
The Lock Father has been trading as an independent locksmith in the Chelmsford, Essex area for over ten years. Just as important, five expert locksmiths work for the business. They are all skilled in carpentry, metalwork and locksmithing. It is these three skills that set us apart from all the other locksmith businesses in Chelmsford.
Local versus National Locksmith Companies
When you search for a locksmith in the search engines, you will find most of them are sizeable national locksmith companies. They will hire inexperienced or newly qualified (a course which they provide) locksmiths, who often do not live in Chelmsford. Please, do not compromise your security by calling unqualified or inexperienced locksmiths.
However, because they spend a fortune on Google Ads, they will always appear. Please, be very careful when choosing a national locksmith company and if in doubt, ask for the address.
Lastly, a genuinely local locksmith company will always deliver better customer service. For us, our reputation is crucial, and we have worked extremely hard to gain and maintain it. We are only as good as our last job.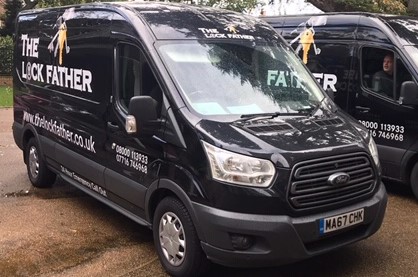 Trusted Locksmith Company
We are the only locksmith Chelmsford based business that is used by Essex police and the Transport for London. We have only recently been added to the preferred contractor's list for The Transport for London. We were added onto this list not through an application or interview but by a few referrals. The referrals came from several existing clients, that are impressed by our standard of craft.
Our Reviews
As we have been in business for a long time, we have hundreds of positive reviews across several reviewing sites. Sites such as Google, Check A Trader, Facebook. A comprehensive evaluation is useful when choosing a locksmith, especially when there are many to choose. It is worth taking your time (unless it is an emergency) and reading reviews before phoning a locksmith.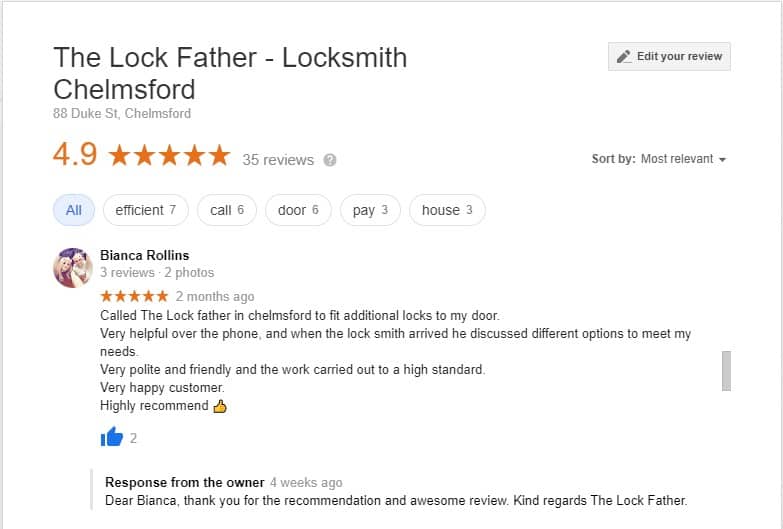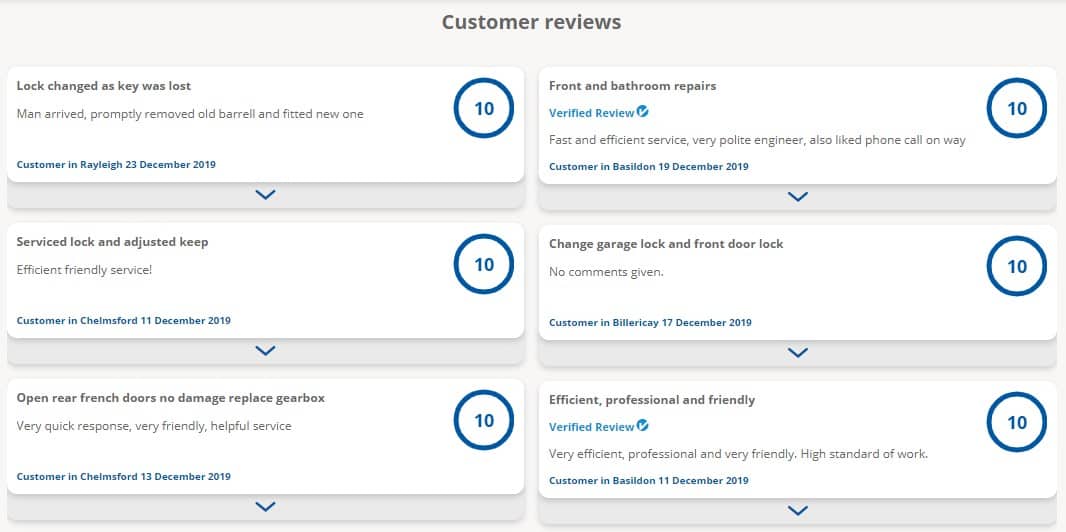 24 hr Emergency Locksmith Service
On some occasions, you will not have enough time to read reviews as you need a 24hr emergency locksmith. We are one of the only local locksmith companies that genuinely off a 24hr emergency locksmith service, that's is available all year round.
The Lock Father is able to offer this as we are a team of five locksmiths, whereas our competitors are a one-person company, that require days off and holidays.
Fully Stocked Vans
All our vans are fully stocked with the correct equipment for the jobs that we face. Meaning we can complete tasks on a first visit, saving you money and us time. Our stock can deal with rapid entry, door realignment issues, new lock installation, broken key extraction, and boarding up. Our locks meet the current British Standard BS 3621 for mortice locks and night latches but also TS007 for Euro cylinders.
What Locksmith Services Do We Offer?
We offer a vast range of locksmith services to the Chelmsford area, including:
If you are locked out of your house/flat, we will get you in.
Lock Change or Lock Installation.
Boarding up.
Burglary repair
Master Key Installation
Upvc door gearbox change
Gate lock installation
Lockable window upgrade or replacement
Letterbox restrictors
Push bars
Fire Exit Security
lock upgrade to high-security locks
Having the correct, the locks on your doors can assist with securing affordable home insurance. More importantly, it will keep you and your property secure from unwanted individuals. Please, if you have an issue with your locks, get in contact and let us fix the problem.
What Service Do We Not Offer?
We do not offer automotive locksmith services, as it is a niche skill that we do not touch.
Locksmith Chelmsford
Please, if you live in the Chelmsford area and need a locksmith then choose a local independent business. The response time will be quicker, and the service will be much better. Whether it is for a free estimate, security reviews of a lock issue, we are there for you. More importantly, if there is an issue later on, then we are just around the corner to honour our warranty.
Service Areas:
As a team of 5 locksmiths, we can provide locksmith services to the following areas:
Get in contact
There are several ways to get in contact with us. The quickest way is by phone 01245 701139 or mobile 07716746968. Or by email at andy@thelockfather.co.uk. However, for those that use social media, you could contact us through Facebook, Twitter or LinkedIn.
If it is an emergency, we can be there in under 30 mins; if not, we can arrange an appointment that suits your diary. Either way, we would be happy to help.
Frequently Asked Questions
✅ Are all Locksmith Qualified?
Technically, no. There is no government body that sets the standards for the locksmith trade, unlike plumbers and electricians. There is a course run by companies that have a college accreditation but there is only so much you can learn on a course in one week. Locksmithing is a trade where you are constantly learning, as new locks are always coming on to the market.
✅ How much does a locksmith cost?
It depends on what work needs to be carried out and at what time of the day. So, a high-security lock can cost somewhere between £60-£70. That cost will always be the same. However, the labour charge is the variable. The labour charge at 3 pm is a lot cheaper than the labour charge at 3 am.
✅ Will the locksmith break my door to get in?
No. A good locksmith will always use a number of non-destructive methods to gain entry into your property. Only on rare occasions will a locksmith have to drill the lock, but there should never be any damage to the door.
✅ How do you train to be a locksmith?
The best way to train to be a locksmith is to be an apprentice to one that has been in the trade for over ten years and has an extensive portfolio of jobs under his belt.