Lock change, replacement or installation
A lock change is a simple process that should be completed quickly by your local locksmith. If the lock is the same size, in all measurements this can be done in under 20 mins. So, if you are looking for a lock change near me, then please get in contact with the best locksmith in Chelmsford.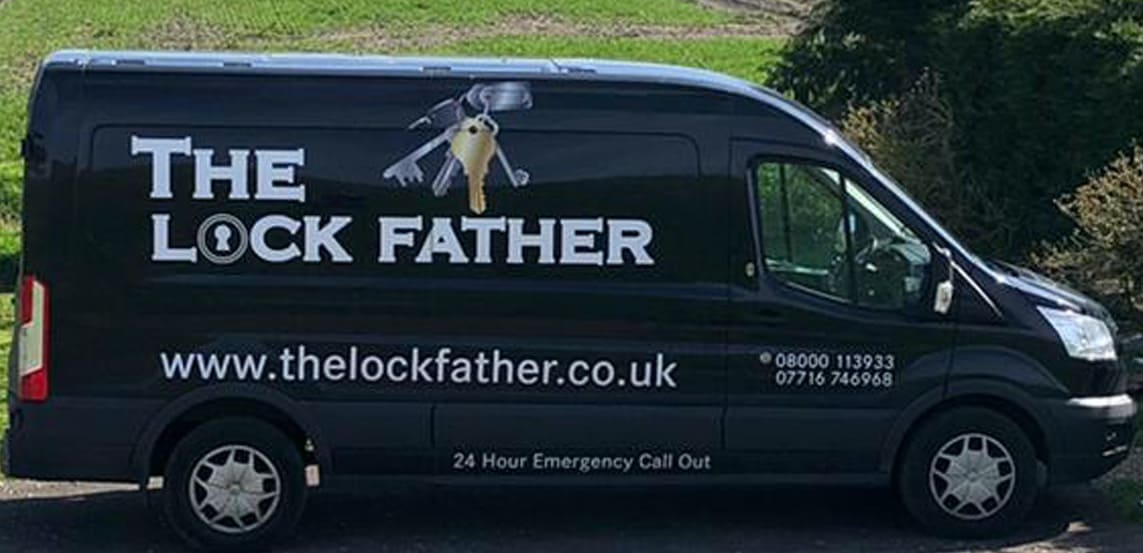 Some Lock Replacements can take Longer.
Situations where it can take longer than 20 mins, is when we are upgrading the locks on wooden doors. Typically, when replacing old locks, they are smaller than the lock we are replacing it with. Modern locks that meet the current British Standard are deeper, taller and broader. An advanced lock has better security features, which makes them more substantial.
So, to make the high-security lock fit, we need to remove more wood from the door for the new lock to fit. We also need to chisel out more wood from the frame for the more substantial keep to -install correctly. All of this extra work takes time.
What the reasons for changing a lock on a front door or a rear door?
We have come across six common reasons why properties need to have their locks changed or replaced.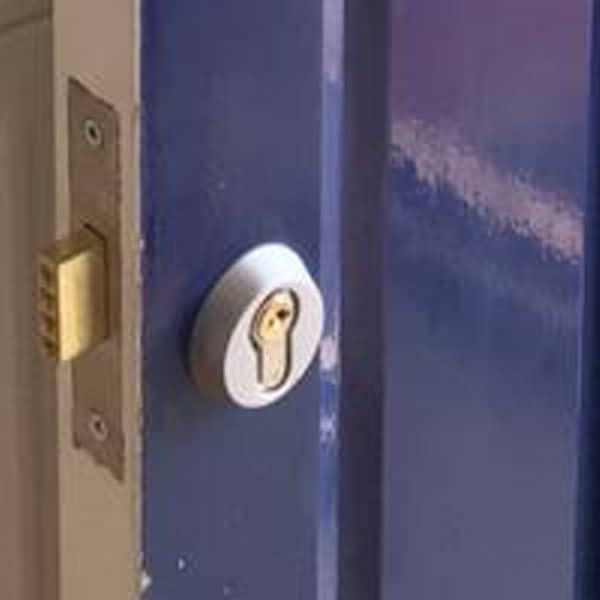 A Faulty Lock on your Home or Commercial Property
Having a faulty lock is one of the more common reasons for requiring a new lock. The majority of the time, it is the front door lock that will need replacing first, as this is often the one used the most. Like most things in life, objects with mechanical parts will wear out. Commonly, pieces get worn once the grease has vanished inside the lock. Lock replacement due to the oil running out is not a yearly occurrence. We, as an experienced locksmith company, have seen locks last 20+ years.
If a lock becomes faulty within a year, it suggests that there are other issues. The main problem being the door is out of alignment, putting undue pressure on the lock. Doors tend to fall out of alignment in extreme weather, misuse and from kids hanging off the door handles or individuals using the handle as an aid to getting into the house or flat.
Please, remember that your home locks are your front line security against break-ins.
Outdated Locks
Some home and commercial property locks just look old, tired and have repeatedly been painted over. Sometimes you can just look at a lock, and think, that requires updating especially night latches on wooden doors. Old night latches tend to be small and easily bypassed by a burglar.
Meet your home insurance policy requirements.
When taking out or renewing your home insurance policy, the insurance broker will ask you several questions about your home security and in particular your locks. For wooden doors, they are insistent on a British Standard mortice lock with the kitemark that is dated 2007. If your wooden door locks don't have this, they will insist that you change the locks, to meet their requirements. A lock replacement is the primary job of a locksmith. By reaching the standard set bt home security policy, you will give yourself peace of mind.
For properties that have a uPVC door, your lock cylinder is your security. Sadly, the euro cylinder is one of the most effortless locks to either snap, pick or bypass. For your peace of mind, please look at the lock, in and around the area where you put the key. Underneath the keyway, hopefully, you should see a Britsh Kite Mark with three diamonds above it. If you do, then you have a high-security lock. If you do not then you will need to have a lock change or specifically a uPVC door lock replacement.
All expert locksmiths will carry door locks that meet your home insurance requirements, enabling a door lock change to be done on the first visit at any hour of the day.
You have moved into a new house or flat.
If or when you move into a new property, please think about your security. Ask yourself, who has keys to my property? If you are honest with yourself, you can not be sure who has or who hasn't got a set of keys to your new dream home. The solution is simple, change the locks. A lock change will give you a new set of keys, that you have full control over who has access to your property.
Your local independent locksmith can provide you with a lock changing service, which will improve your security
House or flat keys were lost or stolen.
If your bag is lost or has been stolen, then it is imperative that you have a lock change on your front and rear doors. The majority of people keep a set of their keys in their bag alongside other material that enable a burglar to identify your property. Your locks will be useless if they have a key. If you find yourself in this situation, please contact us and ask for a lock change.
If you do not live in the Chelmsford area, then any other local locksmith will be able to change the door lock or locks for you. Please, make sure you keep the security of your property at the forefront of your mind.
Upgrade to keyed alike locks.
For whatever the reason for requiring a lock change, it is worth asking your local locksmith about having your locks keyed alike. Having your locks keyed alike will enable one key to open all of the locks. The advantage of this is you can significantly reduce the number of keys on your car keys, especially if you have more than two external doors.
However, there is a disadvantage. If you require a lock change, then you will need to change them all to keep them all keyed alike.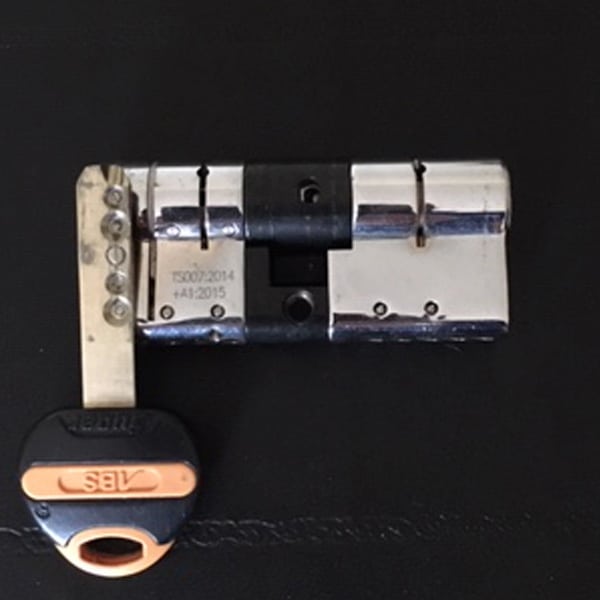 Lock Replacement Services from our Expert locksmith
Change the lock or locks on your front, rear and patio door.
Replace or a new installation of any number of rim locks.
Free security lock inspection.
Make a door lock adjustment.
Install or replace a garage lock.
Upgrade or install patio door locks
How do I know if my locks are British Standard?
Go to your fitted locks, and see if there is the British Kite Marked stamped on the faceplate. Look just below where the bolt comes out of the lock.
For wooden doors, they should also be dated 2007 with BS3621.
Please see the image below.
All exterior wooden doors should be fitted with BS3621 locks dated 2007.
We have lost the key, can you still change the lock?
Whether you have a key or not, locksmiths can still replace or upgrade your locks, but if you had the key, it would make their life a lot easier. By making their life more comfortable, they would be on-site for less time, therefore saving you money. If in doubt, then please give us a call.
Can I replace the locks myself?
You may be tempted with watching a YouTube video and then try and install or replace your lock yourself. If you are successful, you will save yourself some money. However, if you get it wrong or fit the incorrect sized lock, you will compromise the safety of your property. It is always advisable to get a professional locksmith to do this. A classic example of an incorrectly fitted lock can be seen below.
How much does a locksmith charge for changing a lock?
Sadly, this one is difficult to give a straight answer. A locksmiths hourly charge will depend on his experience and where he is located. London is more expensive than Lincoln because his overheads are greater. However, be wary of a locksmith charging less than £60 per hour, as those are the one that has less experience, take longer to do the work and are sometimes are a scam. Please, make sure you chose an experienced locksmith over the cost of one, as it may cost you more in the long run.
Once again, if you live in the Chelmsford area, then please feel free to contact us.
What locks should I have?
The type of locks you should have depends on what door you have. To maximise the security of your property, both residential and commercial, here is what you must have:
Wooden Doors
Every external wooden door should have a British Standard (BS3621) mortice lock dated 2007. There are two types, deadlock and sash lock.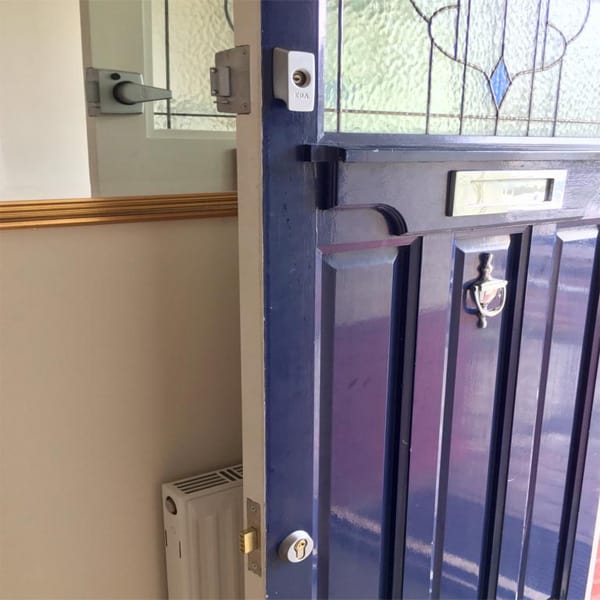 Mortice Sash Lock
A sash lock has a set of handles that run through it with a keyhole in the handle base plate and a sash above the deadbolt. Please see the picture below for an example.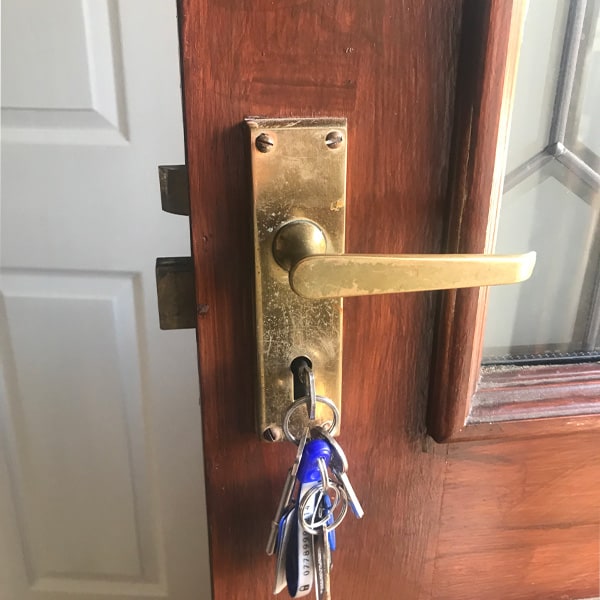 Mortice Deadlock
A mortice deadlock doesn't have handles running through it, just a keyhole either side of the door. Also a deadbolt the engages with the keep in the frame. A mortice deadlock is used in conjunction with a night latch, often seen on residential properties. If your external doors do not have a British Standard mortice sash or deadlock, then you need to have a lock change. Please see the picture below for an example of a mortice deadlock.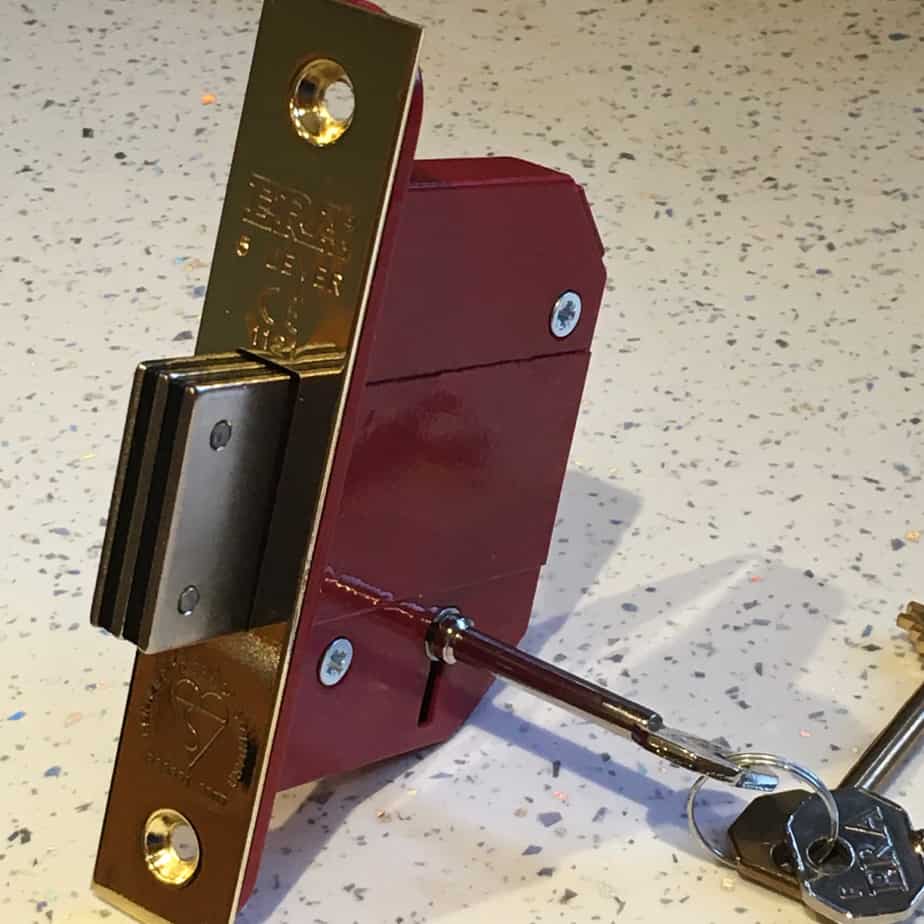 Nightlatch
A night latch is often fitted at the shoulder height and has a little handle that you pull down to open. If you live in an area with a high crime rate, your insurance company may insist on a British Standard high-security night latch being installed. They are easy to change, with a little work required to install correctly. Please view the image below for an example of a British standard Night Latch.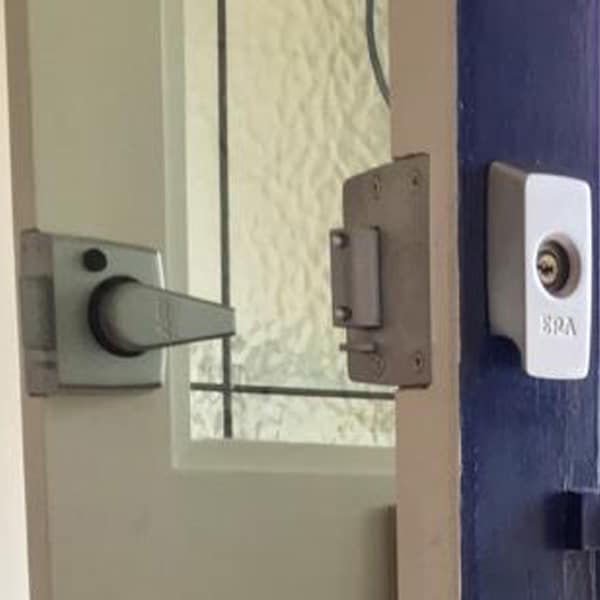 uPVC Doors
uPVC doors must be fitted with a euro cylinder that meets the TS007 – three-star standard. How do you know if it does? If you look just below the keyway, you should see a British Kitemark with three-stars above it. If you do, you are good to go, but if you do not, then you need to change the euro cylinder. You could change it yourself, and if you do, please make sure it sits flush with the handles.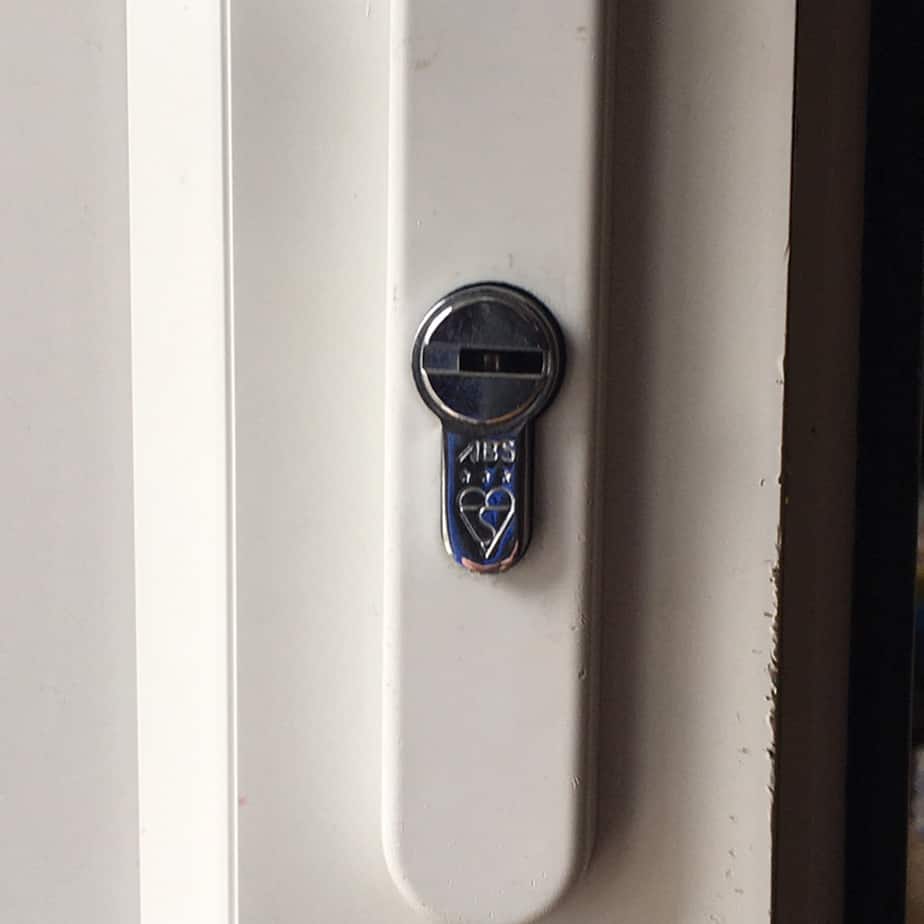 Frequently Asked Questions
Is it cheaper to rekey or replace locks?
More often than not it works out at the same price. However, you can not rekey a lock to make it conform to the current British Standard that is required by your Home Insurance Policy. So, our advice would be to replace the locks.
Can you change locks yourself?
Yes, you can, but if you get it wrong, it could cost you more in the long run. If you fit an incorrect sized euro cylinder on a uPVC door, you could compromise your property's security.
How much does it cost to change a lock?
The cost is broken down into three parts. Labour, the value of the lock and the VAT. All three depend on where you live, the time of day that the work is carried out, which then impacts the VAT.
How much does it cost to change a lock on a uPVC door UK?
A high-security euro-cylinder cost between £60-£70, you then need to add the labour charge and VAT. The labour charge depends on the time of day. 9 am on a Monday morning will be far cheaper than 2 am on a Saturday morning. If in doubt, please get in contact.