Garage Security Tips – Turning A Weak Point Into A Strength
Do you, a friend or family members have a garage, either attached, detached or as part of a block? If you do, this article, garage security tips is aimed at you.
If criminals were bees, your garage is their honey pot.
Why?
Burglars are attracted to the equipment/valuables or contents that are inside, such as motorbikes, road bikes, garden tools, power tools and in some areas fishing gear.
Fitting a padlock is not enough, you need high-quality security products to prevent a burglary from happening to you.
Keep reading and learn how to turn your garage into a fortress but without looking like Fort Knox.
Are Garages easy to break into?
Yes.
Garages, by design, are too easy to break into. Light weight doors made out of thin steel, aluminium, wood or composite material, coupled with low-grade garage door locks make it too easy for burglars to access.
So,
How Can I Make My Garage More Secure?
There're six key areas you should focus on to make your garage more secure.
Key Area 1 – Garage Door Security
Install roller shutters doors. There are no locks to pick, no door corners to prise open and when criminals attempt to break in they have to make a considerable amount of noise.
Noise is a criminal's worst enemy as it alerts homeowners and the neighbourhood.
Generally, roller shutter doors are around £1000 per door, shop around and you find a great deal from manufacturers and or their affiliated installers.
It's worth paying a little more to have a strike plate to allow the fitting of an additional lock or bolt.
Due to the mechanical parts, the system will need a service.
Cheap roller shutter doors will have a fixed code, a signal sent from the keychain remote to the garage door opener. Fixed code are easy to clone, so ensure you have a rolling code key fob, which is extremely difficult to clone.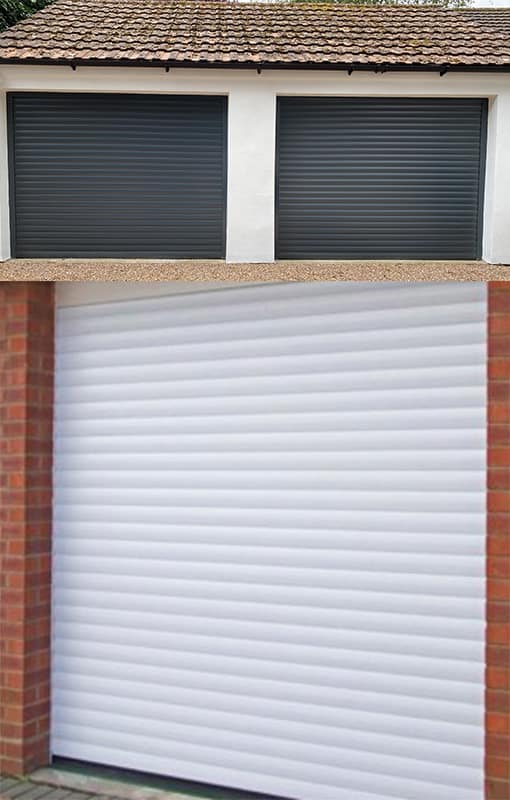 Key Area 2 – Door Locks
Not everyone can afford a £1000 roller shutter door, so upgrade the garage door lock.
Locks that come with a garage door are low grade but are easy to change. Up and over garage doors have a single euro cylinder, which you should replace with a British Standard lock with 3 stars, that has police approval.
High-security locks have keys that require specialist equipment to cut, so not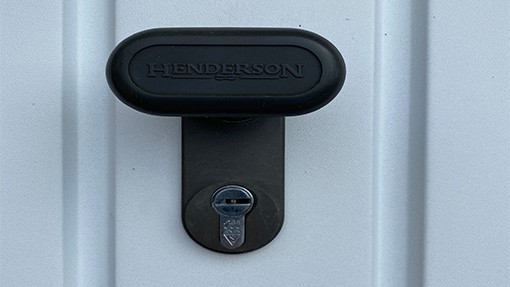 Key Area 3 – Service Door
An entry door at the side/rear also requires protection. Often they're a uPVC door requiring a lock upgrade to a British Standard 3 Star lock. If it's wooden it will require changing to a BS 3621 mortice or sash lock.
In our experience, the 'other entrance' is forgotten about making it an easy target for thieves.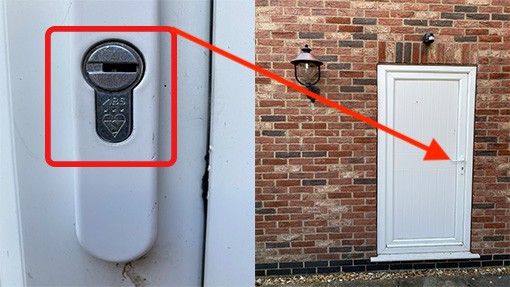 Key Area 4 – Garage Windows
Like the 'other door', windows are another security issue requiring attention. Single plain glass is easy to break, creating an easy entry point.
Some recommend adding security film to your garage windows, which adds a little protection but forces the criminal to use additional effort
Our advice is to add window blackout film – stopping criminals from viewing the contents of your garage.
Additional, we recommend you add a security bar/bars across the windows acting as a visible deterrent.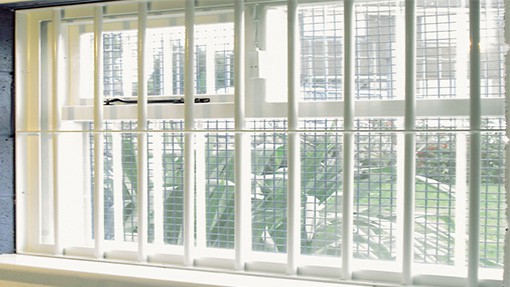 Key Area 5 – Garage Alarm
Having the garage area covered by an active alarm that triggers when there are break-in attempts is one of the best security measures worth paying good money for.
Cheap alarms only alarm when a criminal has gained entry into the garage – this is pointless. You and your neighbour need to be aware of a security issue, an alarm with motion sensors will give you an early warning.
Modern alarm sensors can alert you via your smartphone and give you an option to set off the alarm. Burglar alarms coupled with security cameras are helping to reduce the number of property burglaries.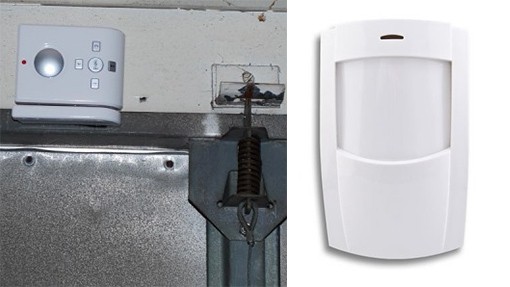 Key Area 6 – Security Lights
A thief feels safe undercover the cover of darkness – so take it away! Having motion lighting sensors, they an easy item for DIY installation, is the perfect product for your home security, especially if you live done a dark street.
A light turns on when someone or a vehicle enters the selected area, disorientating a criminal and damaging his or her night vision.
Additional they will light up the driveway when you pull up or are going to your car.
Garage Defenders – A Great Visual Deterrent
Garage door defenders act as a physical barrier (one of its key features), stopping the door from opening, even if the door lock has been snapped or opened.
The base is secured to the ground in front of the garage door. The t-bar (defender) will lock onto the base with a padlock.
There are a number of advantages of the garage defender, it's an additional lock to protect your valuable things. It is a visual sight to criminals, which often deters them especially if you are on vacation or if your properties/garage blocks are empty.
However, there are 2 disadvantages.
The padlock is close to the floor enabling dirt to enter the keyway, potentially stopping the key from engaging with the pins correctly, leaving you unable to open the padlock.
There are security issues relating to a garage door defender, which can't be put in this article but could be disclosed by a locksmith during a phone conversation. It's worth seeking a locksmiths point of view before installing.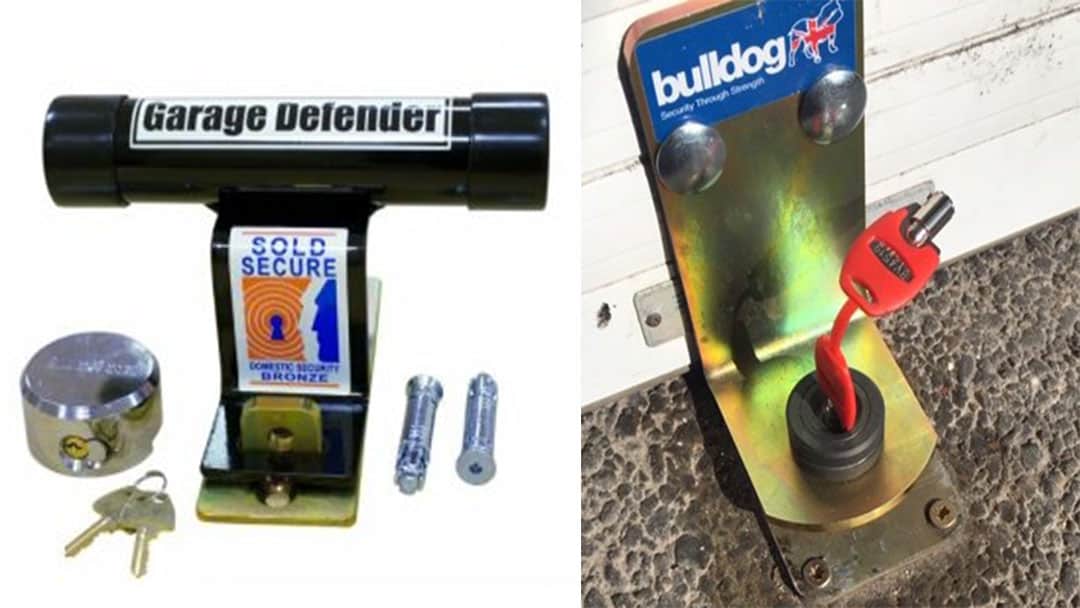 Additional Deadbolts – The Prefered Option
Installing additional deadbolts is our preferred option for additional garage security.
The purpose of the deadbolts is to create additional points of contact with the garage frame and wall.
The ideal place is to install them 30 cm above the ground on either side of the garage door. The deadbolts sit on the inside of the door with a keyhole enabling you to operate them from the outside.
As you turn the key, the deadbolt extends from its housing, move through a pre-cut hole in the side of the garage door into it keep.
The keep sits within the garage wall.