Banham Locksmith – Commercial and Domestic Locksmith Services
Are you looking for a proven Banham locksmith for your residential or commercial property in Essex or East London? Welcome to The Lock Father, the Banham security experts with excellent customer service and extensive experience installing all door lock types.
If you are new to Banham, there are several reasons why their locks are the chosen security products for high-value properties.
1. Enhanced Security. The locks are designed and manufactured to provide property owners with enhanced security that exceeds the recommendations of British Standards.
2. Aesthetics. Banham has built locks that provide a high level of security but are also aesthetically appealing, which is often an essential requirement of high-net-worth individuals and businesses.
3. Comprehensive Security Solutions. A security survey can recommend several security recommendations to secure a family, business or property. Luckily, Banham can be the one-stop shop for all your security requirements, as they produce door locks, grilles, alarms, CCTV, safes and even a master key system.
4. Durability and Reliability. Banham locks are precision-engineered, made in Britain and expertly hand-crafted to be reliable and durable.
5. High Street Banks. Before the closure of many high street banks, Banham locks were their first choice for locks due to their proven performance and full understanding of their security needs.
If you live in the Southeast and need a commercial or home security specialist to install the full range of security devices Banham offers, please contact The Lock Father.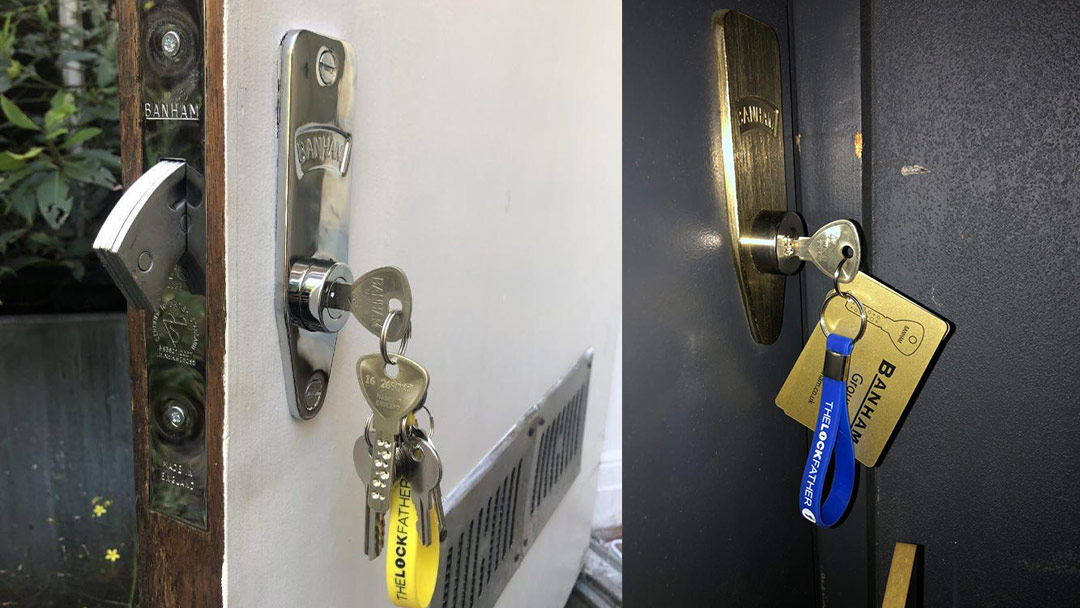 Why The Lock Father For Your Banham Lock Installation
The Lock Father is more than a Banham locksmithing company, as it can provide a wide range of security products for your house, flat or commercial property. Banham locks command steep prices, which can be unsuitable for most homeowners. So, by being an independent locksmith company, The Lock Father can install various locks that meet British Standards 3621 and suit your budget.
All of our locksmiths are CRB/DBS checked and cleared, giving you and our regular clients confidence and peace of mind that none of our staff has a criminal or police record.
Our experience in the locksmith world enables the team at The Lock Father to overcome any lock or entry challenge on a commercial or residential property. The team also works closely with enforcement agencies, giving them first-hand experience of how squatters and criminals gain entry into properties. With this knowledge, The Lock Father can engineer new security measures to counter criminal threats.
Whether you want Banham products' benefits or new locks at a sensible price, The Lock Father can help.
Please get in touch by phone or email; the team will happily answer any questions, provide a quote, or offer you some property security advice.
Areas We Serve
Our Banham Locksmith services are available in all major cities and towns across Essex and East London, providing expert security solutions for commercial and residential properties in the region.
If you are unsure if we cover your location, get in touch because if we do not, we could recommend another professional locksmithing company.
Emergency Locksmith and Surveillance For Your Commercial Property
The Lock Father has extensive experience protecting and/or gaining entry into commercial buildings, regularly working for clients in the Enforcement Agency and Local Authority professions. Here are some of the standard services we provide to commercial clients as part of our emergency locksmith services:
1. Boarding up with metal sheets.
2. Emergency lock change.
3. Manned guarding.
4. Replacement shutter fobs.
5. High-security keys.
Our emergency locksmithing services are bookable 24/7, and we often carry out our services in the middle of the night.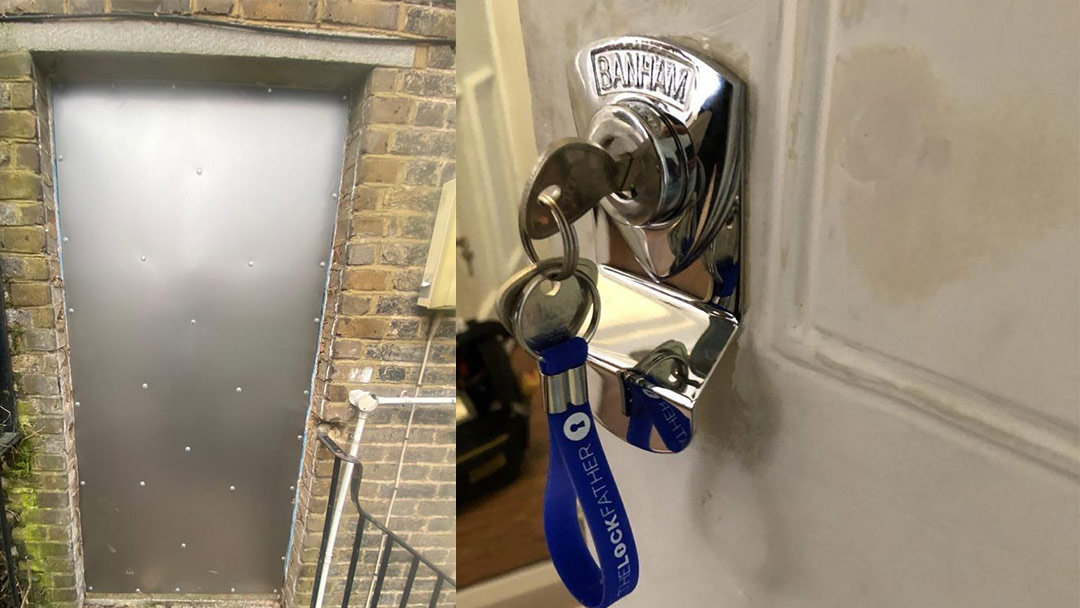 High Security Locksmith Services
As a professional locksmith company, we offer a variety of locksmithing services, but listed below are some of the more common ones:
Banham door lock installation – Nightlatch, electric release night latch, sash mortise, deadlock, deadbolt, narrow stile mortice lock and rim locks.
Panic bar as an exit device on a fire door
Supply and install a British Standard Euro cylinder
Keyless entry systems
Card reader or new fobs for shutters
Mechanical access control
Banham Lock Repair or replace a door knob or new uPVC door handles
Locks for gates
Key cutting for locks on existing doors
Rekey existing locks, which often costs more money than replacing them.
There is no locksmith job too big or too small, so if you require a locksmith service that hasn't already been listed, get in touch, and discuss it with one of our locksmiths.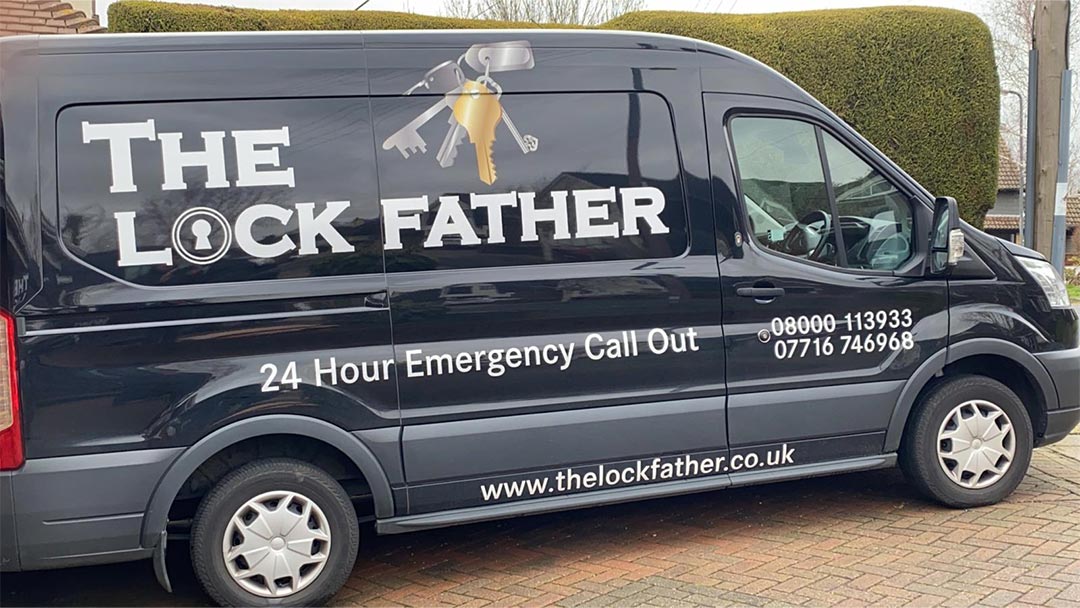 Testimonials from Our Customers
Don't just take our word for it – see what our satisfied customers say about our exceptional service and expertise. Visit our Google My Business profile to read genuine testimonials from clients who have trusted us with their property's security.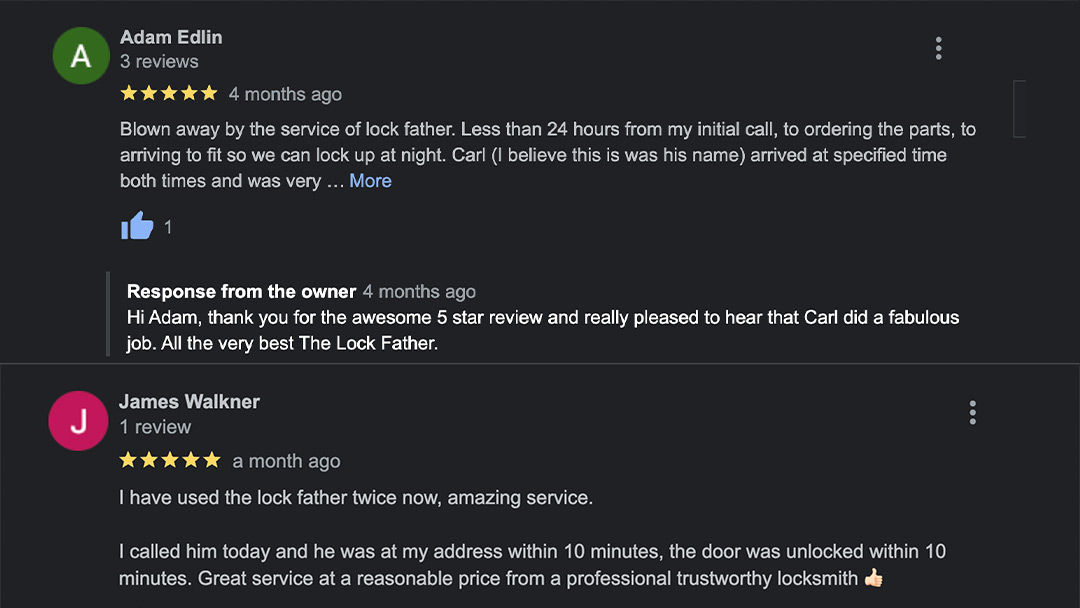 Master Locksmiths Association – MLA
The Master Locksmiths Association is a self-appointed body based in England with members in England, Scotland and Wales. Although they are not government-appointed, they carry a lot of authority with the police and other associations. The Lock Father is currently undergoing the membership application for the MLA, as they are a brand worth associating with.
By choosing The Lock Father, you are in safe hands, and if you require any further information on what we do or who we are, please get in touch.
Get In Touch
At The Lock Father, we understand the importance of safeguarding your property from burglary, ensuring the safety of your loved ones, and providing peace of mind in your area.
To get in touch with our team of professional locksmiths, simply give us a call on 0800 011 3933 or drop us an email at jobs@thelockfather.co.uk.
Alternatively, you can connect with us using the live chat feature on the left-hand side of the screen. We're here to help you with all your locksmith needs, 24/7.
All we need from you are the basic details, name, location and the issue.