Key Cutting in Chelmsford Essex
The Lock Father has been providing a key cutting service in Chelmsford, Essex for over ten years. This service is vital for any locksmith business. All five of our locksmiths are highly trained, and they have years of experience in duplicating keys for both residential and commercial properties. As we are all mobile locksmiths, we can cut the keys at your property, enabling you to test your keys straight away.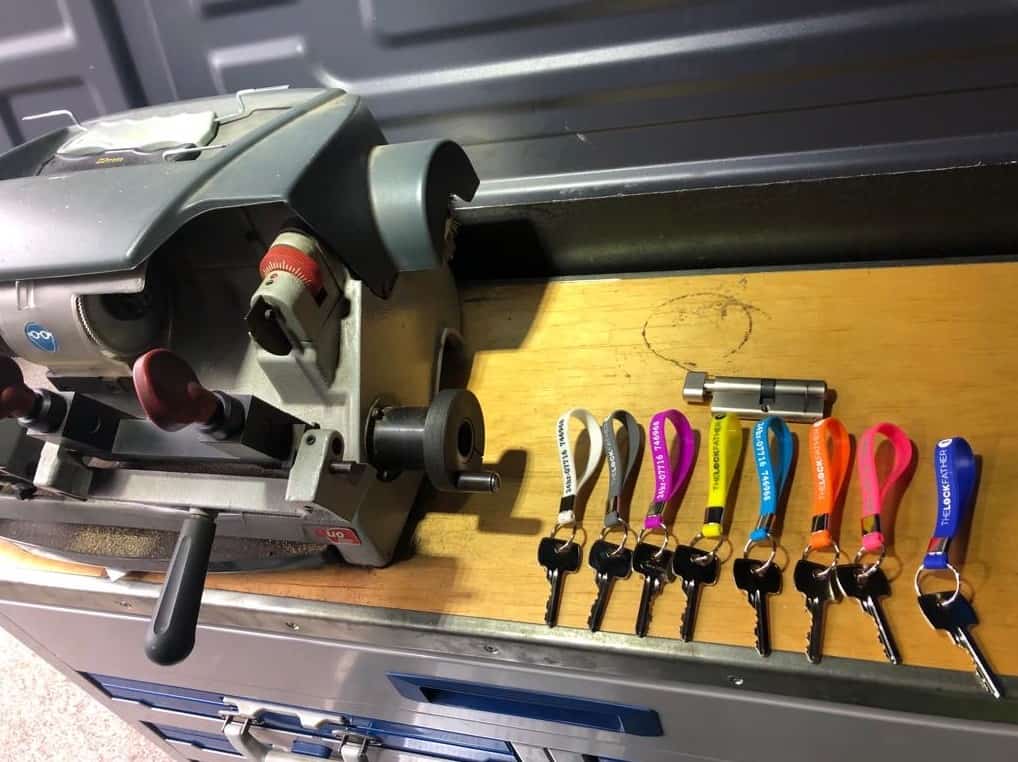 What is a key duplication?
Key duplication refers to the operation of replicating an existing key. The modern process of copying keys is to use a key cutting machine. However, some locksmiths still like to use the manual method of using a file.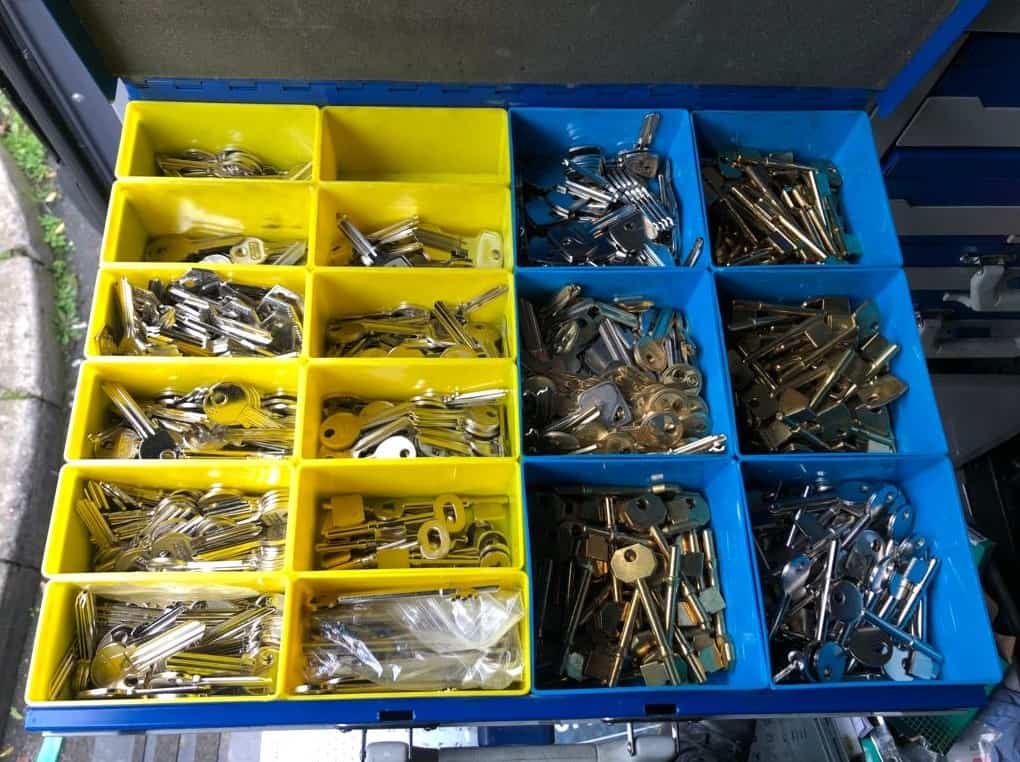 How is a key Replicated?
A blank key is shaped so that it duplicates the existing key. The quickest and most efficient way to achieve this is to use a key cutting machine. A key cutting machine has two vices, one for the existing key and one for the blank. Both the blank and existing keys are put into the clamps, which run parallel. After the key cutting machine is turned on the vices are lifted. The existing key runs along with a guide, while the blank key is cut by a spinning disk.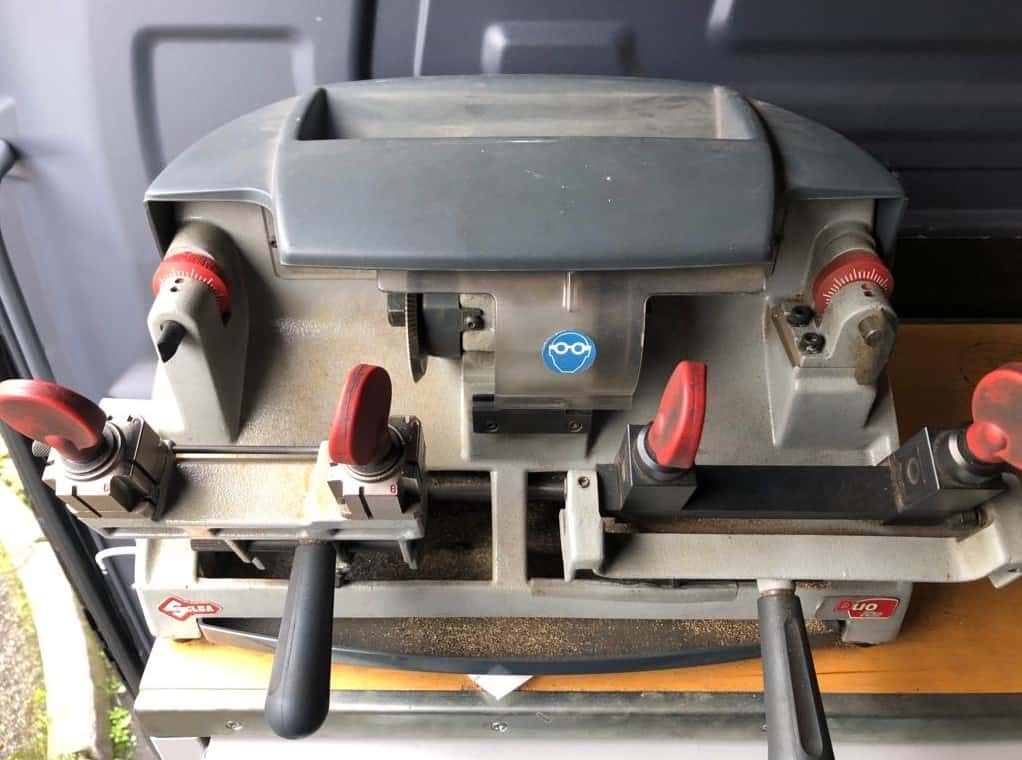 What is the biggest issue when cutting keys?
There are two common issues with key cutting that cause the duplicate key not to work. They both relate to the way the keys are set in the vice.
Key cutting issue number 1.
If the keys are not at the same level in the vice, then there will not be an exact match, causing the keys not to work. A common issue when we are training new locksmiths.
Second Key replicating issue.
The second issue is when the guide for the existing key is not set against the shoulder — causing a poor duplication which fails to work in the lock.
What type of keys can you cut?
We can and do cut the two most common types of keys, which are cylinder and mortise keys. We can replicate other types of keys, such as antique keys or high-security keys, but we may need to do this in our workshop rather than our vans.
Other types of keys we cut are:
Window keys
Padlock Lock Keys
Gate keys
Radar Keys
Safe keys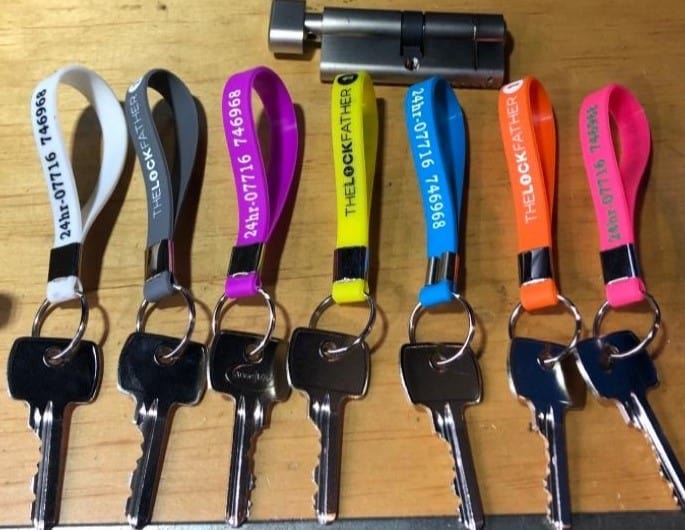 Restricted Key Copying
Restricted keys are more common than you may think. The key will have a number stamped on it which refers to a register. If your name is not on the record, then we can not cut the key for you, which is deliberate. Having the ability to open specific locks needs to be restricted for security reasons. The easiest way to do that is to limit the number of keys in circulation.
Laser Cut Keys
As the security on locks has improved, it has a direct effect on how we must cut the keys. For example, on a British Standard 3 Star Euro Cylinder, we need to use a laser key cutting machine. Making the duplication of keys more accurate.
Please, if you have any questions or queries regarding key cutting then get in contact Andy either by phone 01245 701139 or by email jobs@thelockfather.co.uk.
Frequently Asked Questions
What Keys Do You Cut?
We can duplicate various keys and the most common ones are mortise and cylinder keys. When can copy other keys, but we may need to take them to our workshop for this to be done.
Can you come to us to cut the keys?
Yes, we are a mobile locksmith business and so we will come to you. This will give you the opportunity to try the keys to ensure they work before we leave. This is open to both residential and commercial property owners.
Are you the Cheapest Key Cutting Service?
We are not sure as we have not asked our competition but we are the best. Clients have come to us after being let down by other locksmiths or commercial key cutting companies.
Do you provide a key ring with your cut keys?
Yes, but technically it is called a key loop. It has our phone number on, so if you or a friend needs our help then our number is easily accessible.