Benefits of Installing Van Security Locks: Keeping Your Valuables Safe & Secure
The Lock Father provides professional
mobile van security lock installation services
to protect your vehicle against theft and break-ins. We understand that vans are often used to transport valuable tools and equipment, which can make them a target for criminals.
Our team of experienced locksmiths can help safeguard your van and its contents by installing high-quality van security locks designed to withstand even the most determined thieves.
Whether you need a single lock installed or require a comprehensive security system for your entire fleet, we can provide a tailored solution that meets your individual needs and budget.
With our reliable and efficient service, you can have peace of mind knowing that your van is fully protected and secure.
Secure your tools today by calling freephone 0800 011 3933.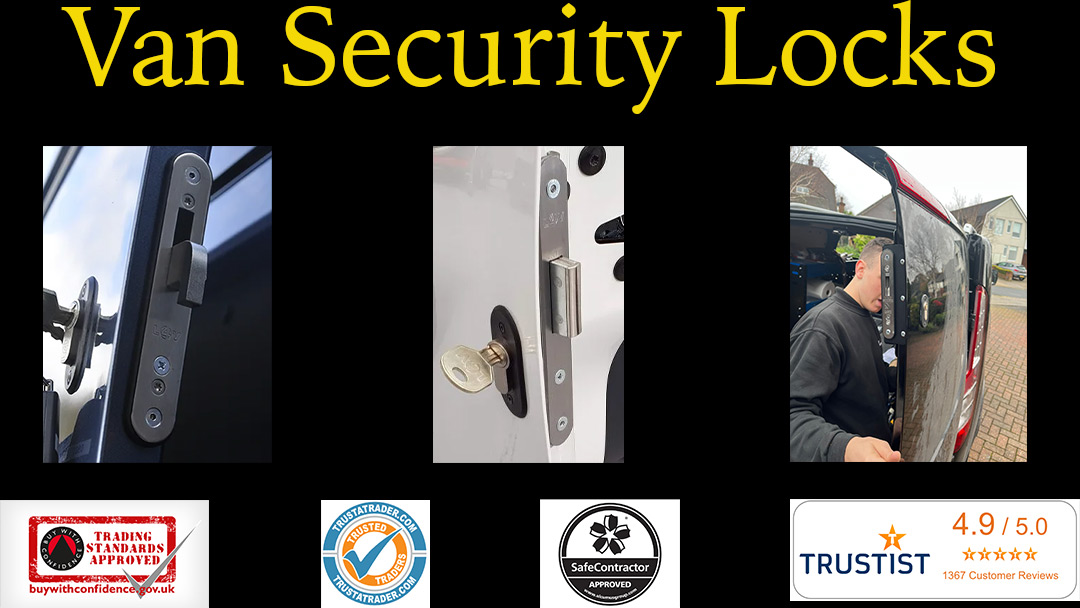 What Are the Benefits of Van Security Locks?
Installing high-security van locks can provide several emotional benefits that greatly enhance your peace of mind and sense of security. Here are some of the critical emotional benefits of installing van security locks:
Reducing anxiety: Knowing that your valuable tools and equipment are safely secured can significantly reduce your anxiety and stress levels, primarily if you rely on your van for work.
Feeling more confident: With robust security measures, you can leave your van unattended for extended periods, whether parked on the street or at a worksite.
Enhancing personal safety: By reducing the risk of theft and break-ins, van security locks can also enhance your safety, as you're less likely to encounter criminals who may be armed or dangerous.
Boosting overall well-being: Improved security can contribute to greater well-being, positively impacting other areas of your life, such as work productivity and personal relationships.
Feeling more in control: With van security locks installed, you'll feel more in control of your vehicle's safety and security, providing a sense of empowerment and control over your environment.
Protecting your livelihood: For many people, their van and the tools inside represent their livelihood, so installing high-security locks can provide protection and safeguard their income.
Overall, investing in security locks for your van can provide many emotional benefits beyond just protecting your vehicle and equipment. You can feel more confident and secure daily with greater peace of mind and control.
Types of Van Locks Currently Available
There are two types of security solutions available for your van. There are van locks and anti-peel kits to stop thieves from peeling back sliding doors. We highly recommend installing an anti-peel kit on all your sliding doors, giving additional peace of mind.
Back to van locks and the different types readily available.
The hook lock

– works independently from the manufacturer's installed locking system. Operated by a high-security key, the hook bolt engages with the opposing body section when turned.
Deadlocks

– The deadlock is very similar to the hook lock in the way it is engaged. However, rather than a hook bolt, it's a straight bolt that engages 20mm-50mm into the opposite body section.
Slamlocks

– the slam lock is designed for couriers and delivery drivers. A slam lock safeguards against a driver forgetting to lock the door. However, it does increase the chance of being locked out.
Statement lock

– Statement Lock mounts externally to the vehicle's doors, bracing them together while providing an effective visual deterrent. When fitted higher in the door, it helps to reduce the risk of the door being bent down.
Armour lock – Unlike internal locks, the Armour Lock is mounted externally, bracing the doors together and creating a powerful visual deterrent to potential thieves. By fitting the lock higher up in the door, also reduces the risk of the door being bent down, further increasing its strength and resilience.
Ultimate lock

– The Ultimate Lock is an external van security lock that provides a powerful visual deterrent by bracing the doors together. When fitted higher up in the door, it also reduces the risk of the door being bent down, enhancing its strength and durability. The lock is available in two versions: the Slamlock and Deadlock.
Cargo lock

– The Cargo Lock range is a specially designed security upgrade developed to meet the needs of the logistics sector. These products feature an improved locking mechanism and a more robust design, which makes it difficult for the handle to be forced open.
Shutter locks

– Shutter Locks are manufactured from durable stainless steel and are specifically designed for use with roller shutters or side-sliding doors on HGVs and Box-Body LCVs. Although these locks are ideally fitted during the body-build stage, they can also be retrofitted to existing fleet vehicles.
The Lock Father will gladly discuss the options if you require further information and guidance. However, your insurance company may tell you what you need as part of your policy.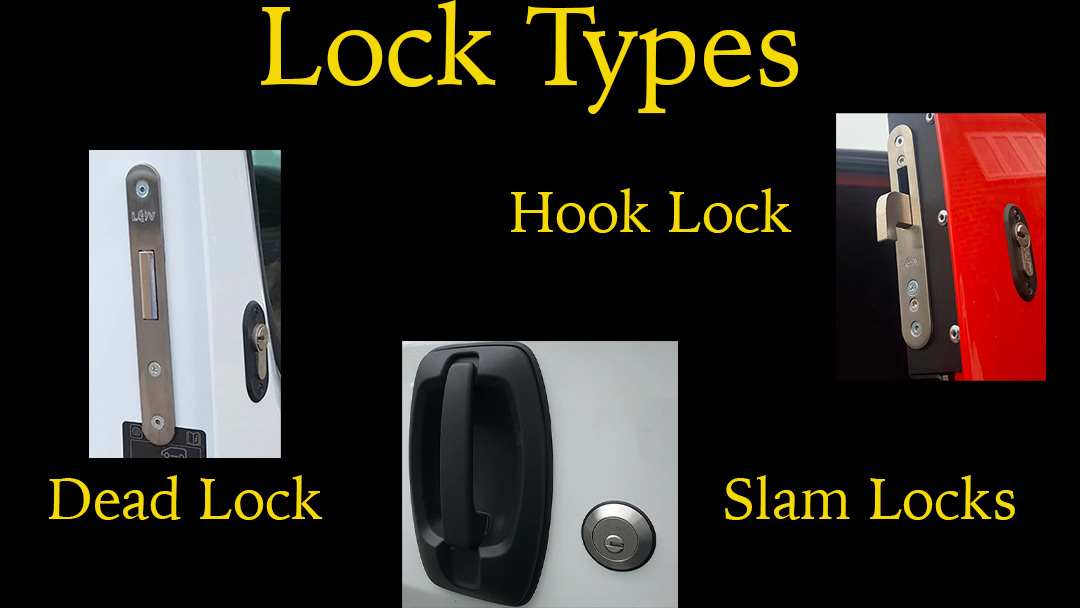 Tips for Choosing the Right Van Security Lock
Assess your needs:

Consider the type of van you have, the value of the cargo you transport, and the areas where you typically park. This will help you determine the level of security you need.
Look for high-quality materials: Choose van security locks made from durable materials such as hardened steel, which offer resistance to cutting and drilling.
Consider installation:

Some van security locks require professional installation, while the owner can easily install others. Choose a lock that suits your needs and abilities.
Check for certifications:

Look for locks that meet industry standards and have been certified by independent testing organizations, such as Sold Secure or Thatcham.
Consider additional features: Some van security locks come with additional features, such as alarms or immobilizers, which can provide an extra layer of security.
Read reviews:

Check online reviews from other van owners to see which locks have worked well for them and consider their recommendations.
Think about compatibility:

Make sure the van security lock you choose is compatible with your specific make and model of van and any other security systems you may have.
Considering these factors, you can choose a van security lock that provides the protection you need for your vehicle and its contents.
Cost of Van Security Locks
The cost varies, depending on the type of lock you require and the more you buy, the cheaper the individual price will be.
There are three parts to the overall cost you will need to consider.
Cost of the lock.
Labour for installation.
Vat.
When you choose The Lock Father, we'll give you a fixed quote over the phone. We quote what you'll pay, and there are no hidden charges.
Types of Vans We Can Secure
As an experienced locksmith company, we have the expertise and experience to install locks on various commercial vehicles. Below is a small list of vehicles we have recently installed additional locks on.
Mercedes Sprinter
Ford Transit, Custom and Connect vans
Citroen Berlingo
Iveco Daily
Fiat Doblo
Maxus
Renault
Peugeot Partner
Toyota Proace
Volkswagen Transport and Caddy
Vauxhall Movano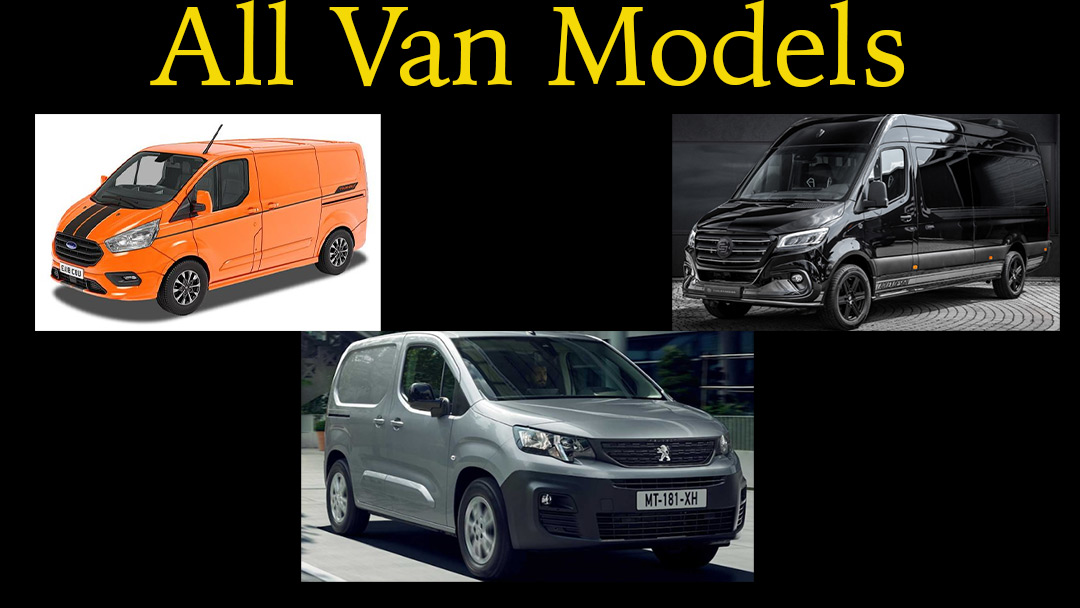 Professional Van Security Lock Installation
At The Lock Father, we offer a top-rated van lock installation service that provides exceptional value for money. Our competitive pricing ensures you receive high service and quality products without breaking the bank.
We understand that van security is crucial, and we believe that everyone should have access to reliable and effective security solutions. That's why we offer transparent pricing with no hidden costs, so you can make an informed decision about the security upgrades that are right for you.
Despite our competitive pricing, we never compromise on quality, and our skilled technicians use only the best materials and equipment to ensure a durable and reliable installation. With The Lock Father, you can be sure you're receiving the best value for your money without compromising quality or security.
Van Security Lock Maintenance
Maintaining your vehicle locks is crucial to ensure their longevity and continued functionality. Here are some tips to help you maintain your locks:
Keep them clean:

During the colder months, dirt and debris can build up in the lock mechanism, causing it to malfunction. Regularly clean the locks using a soft brush and a gentle cleaning solution.
Lubricate regularly: Applying a silicone-based lubricant to your locks can help prevent rust and keep the mechanism moving smoothly. Do not use WD-40, as this will remove lubrication rather than add it.
Check for damage:

Regularly inspect your locks for signs of damage, such as rust, wear, or broken teeth on the key. If you notice any issues, have them repaired or replaced immediately.
Don't force the lock:

If the lock is not turning smoothly, don't force it, as this can cause damage. Instead, try lubricating it or seek professional assistance.
By following these simple maintenance tips, you can ensure that your vehicle locks continue functioning correctly, providing reliable security for your vehicle and its contents.
Contact The Lock Father
At The Lock Father, we understand that the security of your van is of the utmost importance to you. That's why we provide high-quality van security locks to ensure the safety of your vehicle and its contents.
If you need help securing your van or have questions about our van security lock services, please don't hesitate to contact us. You can contact us via email jobs@thelockfather.co.uk or on our freephone telephone number 0800 011 3933. Our friendly and professional team will be more than happy to assist you with any queries you may have, and we can also arrange a consultation with one of our expert locksmiths if required.
At The Lock Father, we are committed to providing our customers with the best possible service and take pride in our reputation for reliability and expertise. So, whether you need a new van security lock installed or have an urgent issue with an existing lock, contact us today and let us help you secure your vehicle.